Spartan Whey is your new #1 choice in protein supplementation. This is a revolutionary-tasting protein powder that provides a full range of high-quality amino acids needed to support your body's recovery and jump-start muscle repair. Unlike other protein powders which may skimp on the quality side by hiding the types of proteins used, Spartan Whey individually lists the exact amount of each and shows the total amino acid profile too. You wouldn't settle for less than the best in your training program, so why settle for less than the best from your protein?
WHEY PROTEIN ISOLATE FOR LEAN MUSCLE: The perfect post-workout solution for those looking to build lean muscle mass, Spartan Whey contains 20+ grams of protein per scoop. This easy-to-digest protein is perfect for building muscle and strength since it contains high-quality amino acids. Whey protein isolate is one of the easiest to digest protein sources and is rapidly absorbed by the body..
MAXIMUM AMINO ACID BIOAVAILABILITY: Spartan Whey is the first protein powder to include AstraGin. AstraGin has scientific studies in humans showing its ability to maximize amino acid absorption in the gut – with some up amino acids up to over 70%!.
SLOW IT DOWN WITH MICELLAR CASEIN: Spartan Whey is a protein powder blend, meaning it offers sources of fast and slow-digesting protein. With Whey Protein Isolate, you get an immediate burst of protein, but, with Micellar Casein, you pace our amino acid and protein delivery over the course of 8 hours. This maximizes muscle recovery and growth..
MUSCLE RECOVERY & ENHANCED WEIGHT LOSS: Due to being a premium source of amino acids, the building blocks of lean muscle tissue, whey protein powder supplements like Spartan Whey are ideal for those looking build lean muscle or recover better from their workouts. Those who supplement their diet with high-quality protein powders notice better recovery..
NO AMINO SPIKING // GREAT FLAVORS: Quality is our #1 goal at Sparta Nutrition. There is absolutely zero amino spiking or cheap fillers added to our protein. Months of research & development went into our incredible tasting whey protein blend. The result was the best tasting whey protein powder with a creamy, milkshake like consistency that is sure to make your taste buds happy.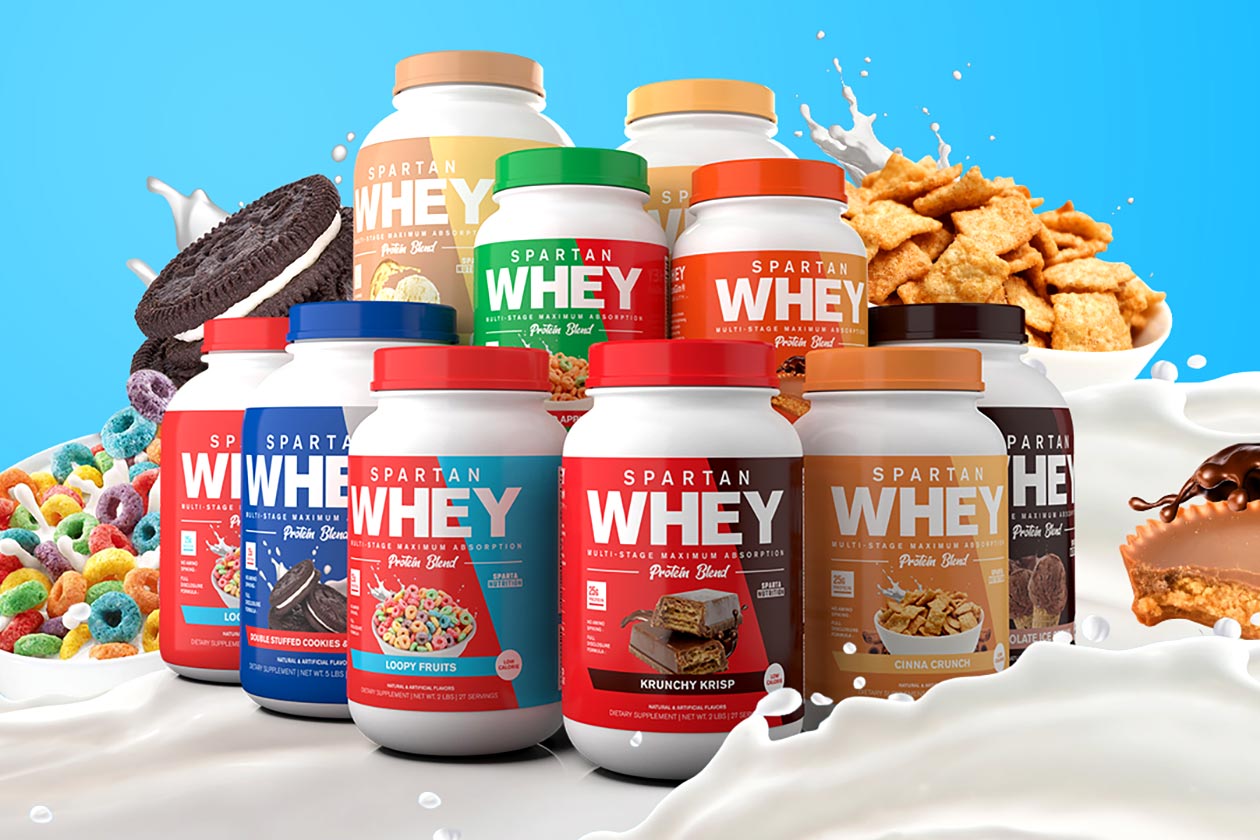 INGREDIENTS
Whey protein isolate, whey protein concentrate, micellar casein, AstraGin.
DIRECTIONS
Mix one scoop in 8-12 ounces (or to desired taste) of cold water or milk and shake/stir thoroughly. Take one serving post-workout to improve lean muscle gains, and add multiple servings spaced periodically throughout the day for best results.